Welcome back to "Finnley's Audio Adventures," where we delve into the enchanting realm of unconventional spoken word performances, advertisements, and promotional media. I'm Finnley the Dolphin, your trusted guide on this audio journey, brimming with peculiar and hilariously entertaining content. Today, we're setting forth into the world of vintage children's literature with a delightful Halloween classic: "Old Witch Rescues Halloween."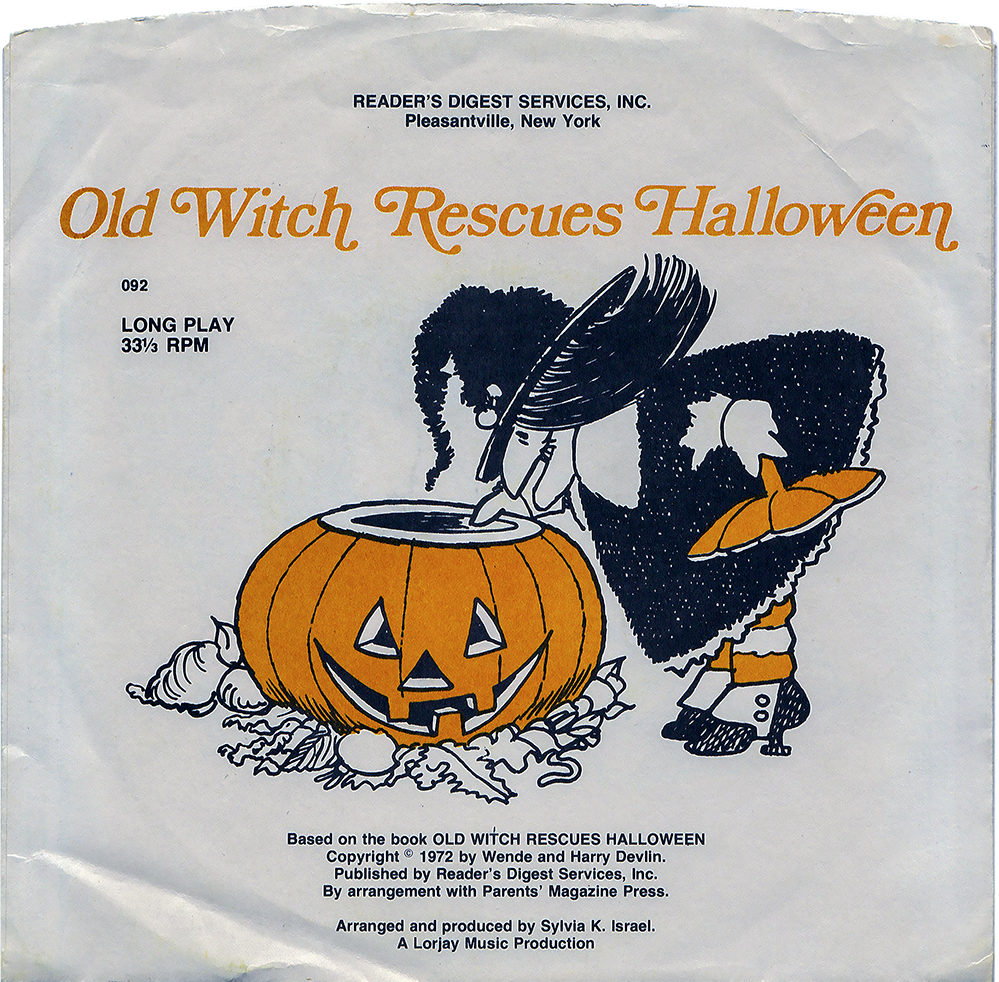 Before we embark on the bewitching adventure of "Old Witch Rescues Halloween," let's take a moment to appreciate Wende and Harry Devlin's enchanting Old Black Witch series. This series commenced with "Old Black Witch!" and continued with "Old Witch and the Polka-Dot Ribbon," introducing readers to the captivating world of the Old Black Witch—a character who has left an indelible mark on the hearts of her fans.
Published in 1972, "Old Witch Rescues Halloween" is the third and final entry in the Old Black Witch series. In this whimsical tale, we follow the eponymous heroine on a mission to save the village of Oldwick from the dastardly plans of the mean-spirited Mr. Butterbean.
Mr. Butterbean, the wealthiest and most influential resident in the area, has grown weary of the noisy children and trick-or-treating that accompany Halloween. He attempts to impose a ban on the beloved holiday at the town meeting, setting the stage for a showdown. However, just in the nick of time, an enraged Old Witch, who had been held captive in the tower of Butterbean Manor, makes her daring escape. Her unexpected presence turns the gathering into a riotous spectacle.
"Old Witch Rescues Halloween" is a creation of Parent's Magazine Press, the book publishing division of Parent's Magazine—a trusted resource for parents and families since its establishment in 1926. While the magazine published its final issue in April 2022, its legacy and contributions to family-oriented publishing continue to be celebrated through works like "Old Witch Rescues Halloween."
The next publisher of "Old Witch Rescues Halloween" was Reader's Digest Services, Inc. Founded in 1922 by DeWitt Wallace and Lila Bell Wallace, Reader's Digest has forged a legacy of quality and a commitment to enriching entertainment. Starting as a modest magazine, the company evolved into a global multimedia powerhouse, offering diverse content to cater to various interests. Their iconic magazines have been a source of inspiration and knowledge for generations, covering topics ranging from health to culture. Reader's Digest expanded beyond print media into radio, television, and music, making wholesome entertainment accessible to families. They also preserved classic literature through their audiobook division, leaving a profound and enduring impact on audiences worldwide.
Now, you may be wondering, "If this is a site dedicated to auditory oddities and gems, why am I discussing a book and magazines?" Well, fellow adventurers, the answer lies in the enchanting intersection of literature and audio, especially when it comes to the spooky season.
This cherished piece from Reader's Digest's record division was not only a literary gem but also a harmonious accompaniment to Halloween festivities. Released just in time for the eerie enchantment of October, it offered a perfect blend of storytelling and auditory delight, setting the mood for Halloween celebrations.
The enchantment didn't stop at the narrative alone. Musical accompaniments interwoven with the tale added depth to the audio experience. As you listen, you'll find yourself immersed in the world of Oldwick and the incantations of Old Witch herself all come to life in haunting harmony.
Listeners of this recording will also notice a recurring tone throughout. This tone serves as a guide, not just for the tale's progression but also for when it's time to turn the page in the accompanying book. This ingenious feature transformed the experience into an interactive journey, making it especially enjoyable for young readers who were still honing their reading skills. It fostered a sense of participation and engagement, as if the listener were right there in Oldwick, turning the pages of the story alongside Old Witch herself.
So, as you immerse yourself in "Old Witch Rescues Halloween," remember that this audio treasure isn't just a simple recording; it's a portal to a world where literature and audio coalesce, offering an enchanting and immersive experience perfect for the season of spookiness. Thank you for joining me on this enchanting audio adventure. Whether you're revisiting cherished childhood memories or discovering "Old Witch Rescues Halloween" for the first time, I hope this journey has added a touch of magic to your day. Stay tuned for one more Halloween record next week on Finnley's Audio Adventures.